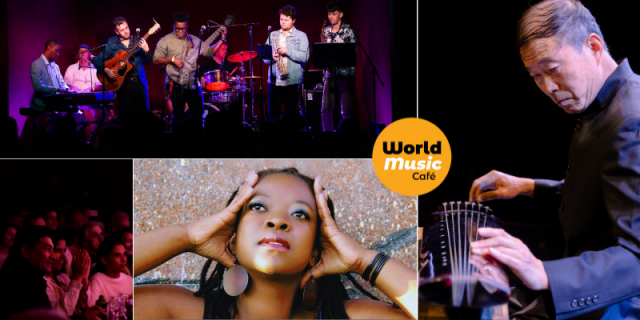 World Music Café celebrates its final show for 2023 featuring Zimbabwean singer Rumbie Tavaziva with Shangara Jive, Chinese Guqin Master Gang Liu, and Cuban supergroup De Cuba Son, at the Mt Lawley Bowling Club Function Room on Friday 24 November 2023.
Rumbie Tavaziva is a phenomenal singer and songwriter from Zimbabwe. She has worked with many leading Zimbabwean artists including Chiwoniso Maraire, with whom she toured to festivals across Europe, Mauritius and South Africa. Rumbie makes her Australian debut at the World Music Café, playing a set of contemporary afro music with Shangara Jive, Perth's premier southern African band.
Gang Liu is a highly accomplished Master Guqin player from China. He performs on the guqin, an ancient seven-string Chinese instrument will low open bass strings that's sometimes referred to as 'the father of Chinese music'. His playing technique incorporates open and stopped strings, harmonics, and glissando sliding tones to create an enthralling musical experience unusually reminiscent of slide guitar.
De Cuba Son is a dynamic Cuban band showcasing some of best Latin jazz players in town. Featuring Arvis Mena on bass, Moha Bulio on keys, Oslu Castaneda on percussion, Jeremias Sosa on guitar, plus trumpet and sax from Matt Smith and Max Whicham, De Cuba Son play the classic Cuban repertoire, plus their own originals, with the iconic Havana sound. Get ready for some authentic salsa and rumba rhythms for the final set for World Music Café 2023.
World Music Café is a social enterprise that provides economic and social connection for the crew members of new migrant and refugee backgrounds. A brilliant new catering partnership has been established in 2023 with CARAD, the Centre for Asylum Seekers, Refugees and Detainees, who create sumptuous banquets of Middle Eastern cuisine and provide valuable transitional employment opportunities for new people of refugee backgrounds arriving in Australia.
World Music Cafe is described as 'An Oasis of Integration in Our Country' by the UWA Centre for Social Impact and was a 'Social Entrepreneur of the Year' finalist in the Australian 2022 Third Sector Awards.
Given most shows sell out, patrons are encouraged to book early to avoid disappointment. Group table bookings are available. Bookings at https://events.humanitix.com/world-music-cafe-36