World Music Café is a social enterprise founded by Multicultural Futures that is approaching five years of successful operations.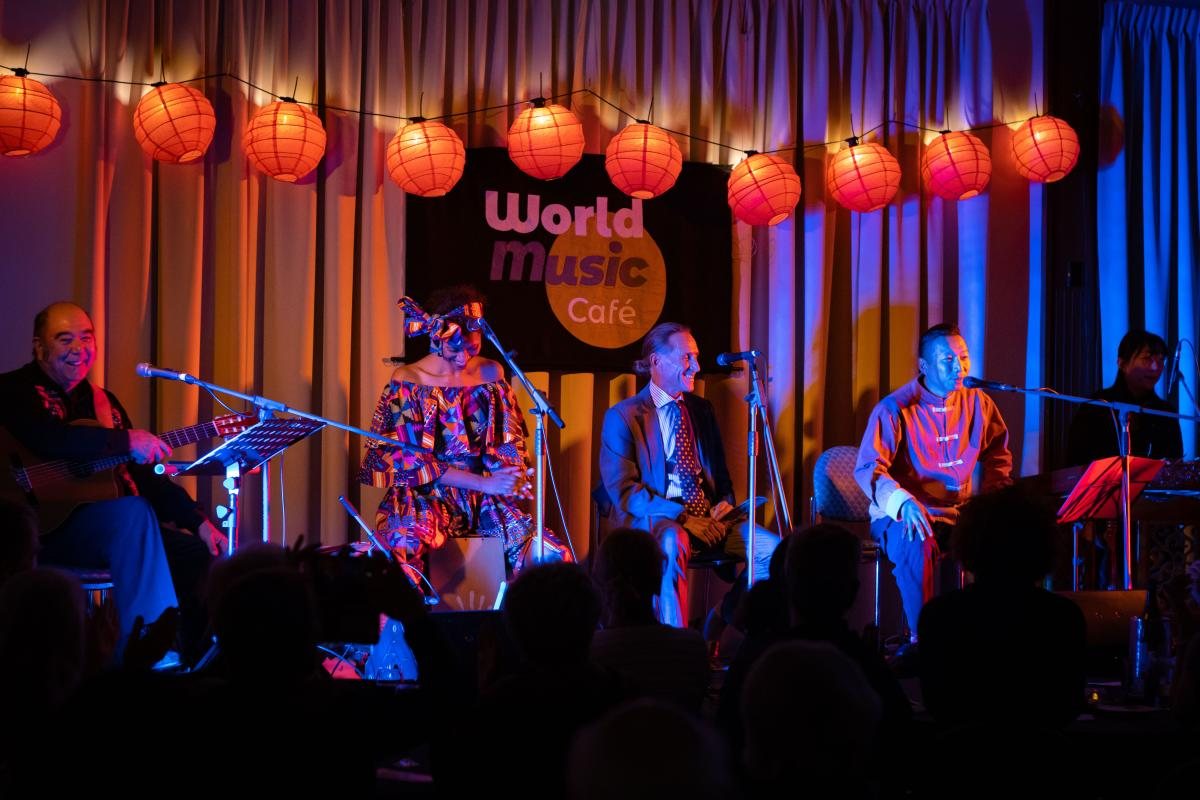 It has trained and employed many new migrants of humanitarian and refugee backgrounds, showcased hundreds of culturally diverse musicians, and entertained literally thousands of customers with its popular high quality World Music Café 'Dinner & Show' events.
World Music Cafe was initially created in 2019 through the Multicultural Enterprise Development Project, which was part of a Department of Social Services 'Try, Test, Learn' joint initiative between Multicultural Futures and the Metropolitan Migrant Resource Centre.
The World Music Café 'Dinner & Show' business model provides social and economic connection for team members working in various roles such as Front of House, customer service, marketing, and the kitchen crew.
It was described as 'An Oasis of Integration in Our Country' by the UWA Centre for Social Impact evaluation report. In 2022, World Music Café was a 'Social Entrepreneur of the Year' finalist in the Australian Third Sector Awards.
In 2023, the social enterprise has recently transitioned to a new home at Kaleidoscope Multicultural Arts Management (KMAM), which is a multicultural arts agency established in 2014 by WMC Facilitator Jon Cope, that specialises in culturally diverse arts projects and community cultural development.
It has since secured new Australia Council for the Arts support and continues its World Music Cafe documentary series that is part of the Australian Cultural Diplomacy Grant Program, supported by the Department of Foreign Affairs and Trade.
"We are forever grateful to Multicultural Futures, our founding partner that helped us initially develop World Music Café," said WMC Facilitator, Jon Cope.
"World Music Café has become successful through the determination and resilience of the social enterprise team, the popularity of our events, and the support of many valued partners on our journey over the last four years."
"Our funding landscape may be varied and changeable, but we fully believe in the value of our social enterprise and the many positive benefits World Music Café brings to our contemporary Australian community".
"We encourage people, and their organisations, to come and experience the World Music Café magic for themselves".
Following the sold-out success of the World Music Café in July, the next 'Dinner & Show' will feature Vietnamese dan bau player Nier Nguyen, the Crystal Jade trio, and the fiery Hungarian gypsy band Hot Paprika at the Mt Lawley Bowling Club Function Room on Friday 25 August 2023.
Nier Nguyen is a Vietnamese musician who plays piano and the traditional dan bau single-stringed zither instrument. For his World Music Café debut, he will perform traditional Vietnamese music on the dan bau, a unique live music experience for our loyal audience in Perth.
Crystal Jade played the inaugural World Music Café in September 2019 and have since met and collaborated with many other quality musicians, facilitated in part through the WMC Collaborations project. Crystal Jade features the stunning musicianship of Stella Huang on yangqin, Merlin Ma on bamboo flute, and Malcolm Mah on double bass and they perform a repertoire of traditional and contemporary Chinese music.
Hot Paprika are a thoroughly entertaining quartet that play vibrant traditional tunes from the Hungarian villages stretching from the upper plains of modern-day Slovakia through to the Carpathian Mountains in Transylvania. Featuring the hammer dulcimer, violin, viola and double bass, the band deliver an authentic Hungarian village music experience with beautiful melodies, energetic rhythms, and an exciting passionate performance.
The World Music Café kitchen team has been mentored by chef Nimrod Kazoom for two years and is now working with the Fare Go catering team at CARAD to prepare the delicious banquets of international cuisine.
Given most shows sell out, patrons are encouraged to book early to avoid disappointment. Group table bookings are available, go to https://events.humanitix.com/copy-of-world-music-cafe