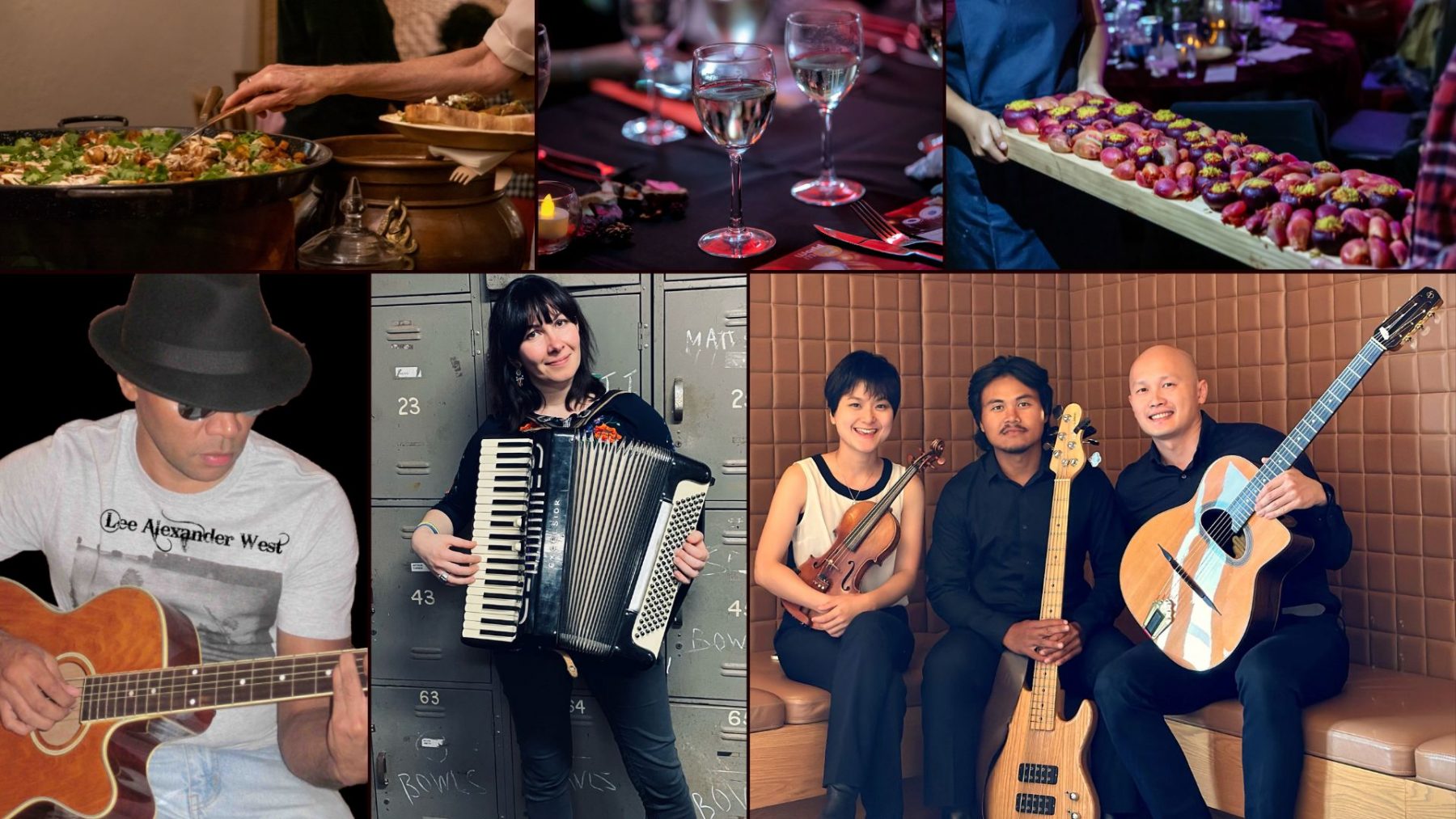 World Music Café is delighted to announce a new season of diverse 'Dinner & Show' music concerts starting on Friday 28 July 2023 at the Mt Lawley Bowling Club Function Room with The Buevskies, Lee West and the Sino Swing quartet, plus a banquet of international cuisine.
The Buevskies are an extraordinary Ukrainian-Australian band that formed in Perth in recent years. The ensemble features the soaring vocals of Irina Buevsky and her quality quintet of classically trained instrumentalists.
Lee West is a Mulguna man from the Gascoyne region of Western Australia. He is a talented singer songwriter, and also a renowned First Nations dancer and choreographer. For his World Music Café set, Lee will share his original songs and cultural stories.
Sino Swing are an exciting quartet that perform the upbeat Parisian gypsy jazz repertoire with a distinctly Eastern twist. The quartet features Zola Li on violin and vocals, Edwin Ch'ng on finger-style guitar, Wayan Biliondana on upright bass, and new member, Chenchen Lin on erhu. Chenchen has recently arrived in Perth and is an accomplished erhu player who has won many awards for her erhu performances.
World Music Café is a social enterprise established in 2019 that provides social and economic connection for team of new migrant and refugee backgrounds. It has been described by the UWA Centre for Social Impact as 'An Oasis of Integration in Our Country' and was a 'Social Entrepreneur of the Year' finalist in the Australian 2022 Third Sector Awards.
Given most shows sell out, patrons are encouraged to book early to avoid disappointment. Group table bookings are available, go to https://events.humanitix.com/world-music-cafe
The World Music Cafe is assisted by the Australian Government through the Australia Council, its arts funding and advisory body. World Music Cafe acknowledges founding partner, Multicultural Futures.